At the Doctor's
We present you our newest animation with dialogue in Polish – simple conversation between doctor and patient in Polish. With this video you can learn vocabulary, which you can use at the doctor's in Poland. While on vacation in Poland, you may need medical help. The Polish dialogue with the doctor will certainly be useful to you. With this video, you will learn how to make an appointment with a doctor in Polish and how to name the symptoms of the disease in Polish. The symptoms of the disease in Polish will make it easier for you to contact your doctor and describe all ailments.
Polish dialogue
The teachers in our video speak slowly and very clearly so that you can repeat the phrase without any problems. This is a great Polish listening list for people who want to speak Polish correctly. Polish vocabulary is not the easiest one, but with our movie you will surely learn Polish quickly.
Phrases used in the video:
– Good morning. I'm here on holidays and have been feeling quite sick, so I need to see a doctor. Could I make an appointment? (Dzień dobry. Jestem tutaj na wakacjach, bardzo źle się czuję i potrzebuję pomocy lekarza. Czy mógłbym umówić się na wizytę?)
– Good morning/afternoon. Do you have health insurance? (Dzień dobry. Czy ma pan ubezpieczenie?)
– Certainly, I bought travel insurance for the duration of the trip. (Oczywiście, wykupiłem ubezpieczenie turystyczne na czas podróży.)
– Wait a moment, I'll ask the doctor if she'll see you. (Chwileczkę,zapytam pani doktor czy zgodzi się pana przyjąć.)
– I'd be obliged. (Byłbym bardzo wdzięczny.)
– The doctor will see you today. May I see your ID, please? (Zostanie pan przyjęty dzisiaj. Mogłabym prosić o pana dowód osobisty?)
– Great! Here you are. (Wspaniale! Proszę.)
– Thank you. Please, take a seat and wait in line. (Dziękuję. Proszę usiąść i zająć miejsce w kolejce.)
– Who's next in line? (Kto z państwa jest następny w kolejce?)
– I am. (Ja.)
– Come in, please. (Zapraszam, proszę wejść.)
– Good morning. (Dzień dobry.)
– Good morning. Please, take a seat. What's the matter? (Dzień dobry. Proszę usiąść. Co panu dolega?)
– I have a severe stomach-ache and headache, loss of appetite and obnoxious cough. (Bardzo boli mnie brzuch i głowa, dodatkowo nie mam apetytu i męczy mnie kaszel.)
– How long have you been feeling unwell? (Od kiedy pojawiają się objawy?)
– For two days. (Od dwóch dni.)
– I understand. Did you vomit? (Rozumiem. Czy zdarzyły się przy tym wymioty?)
– Yes, I vomited last night and my muscles have been sore since then as well. (Tak, wczoraj w nocy wymiotowałem i od tego czasu bolą mnie również mięśnie.)
– Have you experienced any other health problems? (Czy zauważył pan u siebie jeszcze jakieś inne dolegliwości?)
– I am feeling very weak and it's hard for me to focus. (Jestem bardzo słaby i mam problemy z koncentracją.)
– Good. My first question is, do you suffer from any chronic diseases? Are you taking medication on a regular basis? (Dobrze. Na początek muszę zapytać: czy choruje pan przewlekle? Czy przyjmuje pan leki na stałe?)
– No. I do experience problems with my blood pressure, but today my pressure was normal. (Nie. Czasem miewam problemy z ciśnieniem, ale mierzyłem je dzisiaj i wynik był w normie.)
– I understand. I'll take your temperature. (Rozumiem. Zmierzę panu temperaturę.)
– You have a fever, that's why you're weak. The reading on the thermometer showed 39 centigrade. Please stand up and lift your shirt up. I will perform and exam on your abdomen and will listen to your chest.  (Ma pan gorączkę, dlatego jest pan słaby. Termometr pokazał 39 stopni Celsjusza. Proszę wstać i podnieść koszulkę do góry. Zbadam pana brzuch i osłucham pana.)
– Good. (Dobrze.)
– Does it hurt? (Czy to boli?)
– No. (Nie.)
– Ok, please take a seat. Lungs and bronchi are fine. Nothing alarming in the abdomen either. (Dobrze, może pan usiąść. Płuca i oskrzela są w porządku. W brzuchu też nie ma nic niepokojącego.)
– Thank you. (Dziękuję.)
– You probably got food poisoning from the local food. I will write you a prescription, please buy the medicine and take it twice a day, morning and evening. If after three days you will not feel better, please call me. (Prawdopodobnie zatruł się pan lokalnym jedzeniem. Wypiszę panu receptę, proszę kupić lek i brać go dwa razy dziennie, rano i wieczorem. Jeśli po trzech dniach objawy będą się utrzymywać, proszę o kontakt telefoniczny.)
– Is there anything else I should do to feel better? (Czy powinienem zrobić coś jeszcze, żeby poczuć się lepiej?)
– Please, rest in bed today, drink plenty of water and stay on a light diet. The fever should go away after the first dose of the medicine. (Proszę odpocząć dzisiaj w łóżku, pić duże ilości wody i jeść lekkostrawne, proste posiłki. Gorączka powinna minąć po podaniu pierwszej dawki lekarstwa.)
– Thank you for your help. (Dziękuję za pomoc.)
– You're welcome. Please pick up your prescription in the reception area. (Proszę. Receptę będzie pan mógł odebrać w recepcji.)
– Of course! Goodbye! (Oczywiście. Do widzenia!)
– Goodbye! (Do widzenia!)
– I'd like to pick up my prescription. (Chciałbym odebrać receptę.)
– Here you are. Please find our business card enclosed, you can use the phone number to call the doctor. (Proszę. Dołączam również wizytówkę, gdzie znajdzie pan numer telefonu do pani doktor.)
– Thank you very much. Goodbye! (Dziękuję bardzo. Do widzenia!)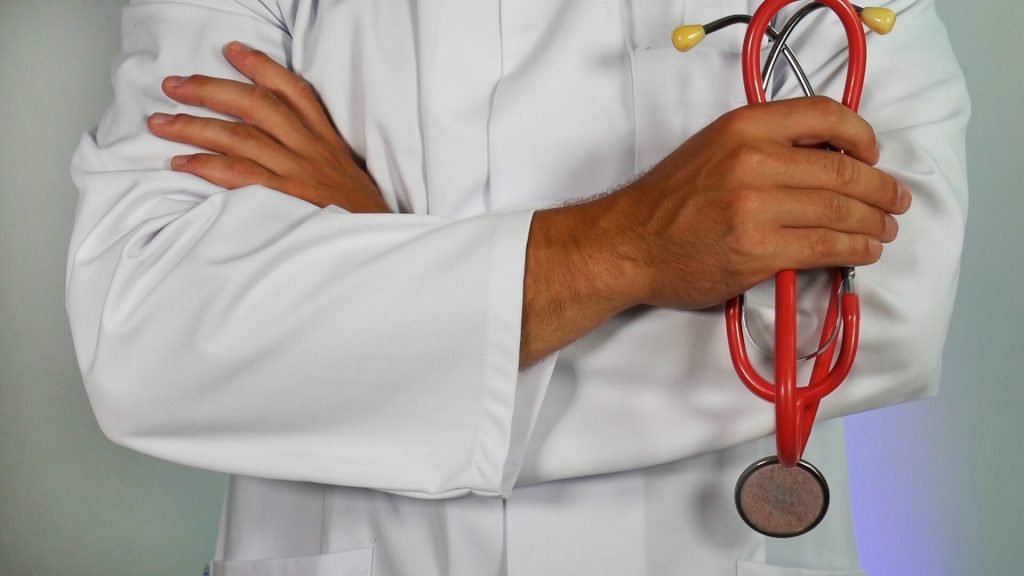 For more, visit our YouTube channel and see also our latest video.